Artist: Anya Boz 
Hometown: Brooklyn, N.Y.
Title of Work: Backyard Princesses
Anya Boz believes in the world of magic. 
She also believes in the natural world.
So, her reverence for both infuses her art, whether it be the murals she paints, the illustrations she sketches, or the fantastical animal art dolls, or "room guardians," that she makes.
Both worlds are on display in her work for the Trinity Trail gallery, "Backyard Princesses," in which the Gulf Coast Toad, the Little Blue Heron and the Dog-Day Cicada dance in celebration.
"My work is heavily inspired by nature and the idea of adding a bit of magic to unexpected places," said Boz. "I seek extraordinary in the ordinary as a reminder that wonders will reveal themselves to those who are willing to look."
Boz knows the Trinity River and biked along its trails. She grew up in Keller, worked in a Colleyville bakery and lived in Fort Worth before moving to Brooklyn in 2020. She is not classically trained – Boz did take art at Keller High School – and relies on her "natural ability."    
"I was not one of the coolest kids in high school. I was 'Anya the artist kid,'" said Boz, who was known as Anya Bosworth at that time. "I was friends with the cool and uncool kids."
"Backyard Princesses" reflects a toned-down version of Boz's style. In her other work, where she anthropomorphizes animals – many of them have hands, threatening stares and strange proportions – to the point she admits that they can be "disturbing" and "creepy."
But in this, her eighth mural, Boz's Trinity River inhabitants take on a non-confrontational, spiritual nature that makes you ask if they are intelligent spirits as they spin to the glory of life and the coming of each season: The toad is Summer; the cicada Spring; the possum Fall; the heron winter. The swirling ribbon nearby indicates the season.
"I like stepping on the borderline of something that is familiar from something that is natural to something spiritual," Boz said. "They come into my head and I put them out into our world."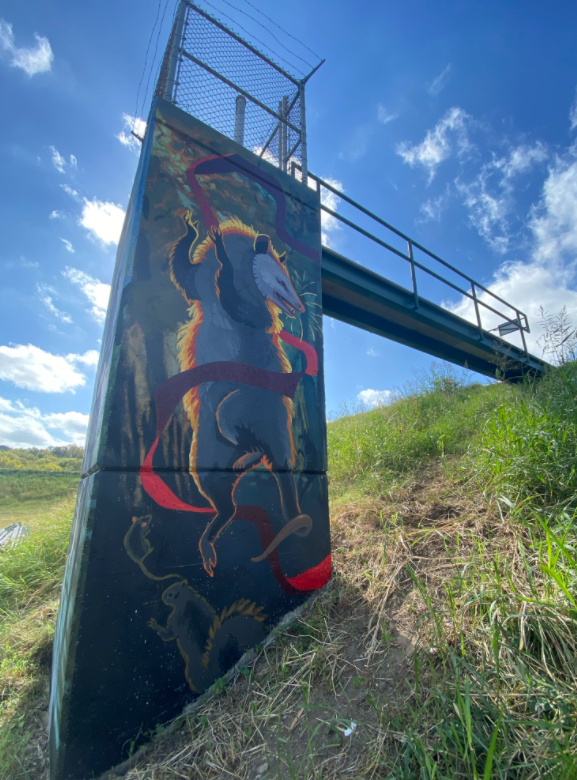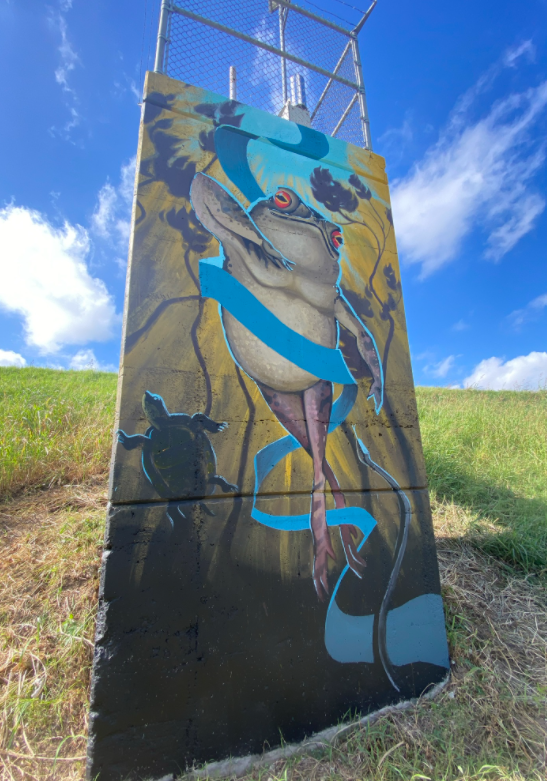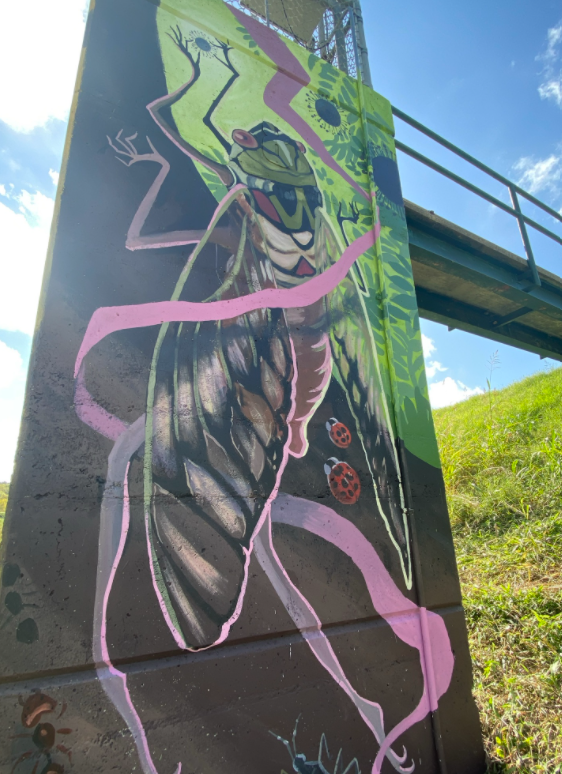 Next time you're out on the trails, keep your eyes open for the colorful creations popping up along the river. You can also follow @TrinityTrails on Instagram to see more pictures of completed and in-progress structures!
Are you interested in staying connected with the Painting the River project? Sign-up for our newsletter and learn about new murals and the project each week.