Artist: Callie Stiewig 
Hometown: Springtown
Title of Work: Trail Crawlers
Make no mistake, Callie Stiewig is not crazy about bugs.
The Springtown artist does, however, believe in seeing the beauty in life – no matter how small.
"We need to have a better awareness of things that we take for granted," Stiewig said. "There is beauty in very small things, and we need to pay attention."
Her Trinity Trails mural, "Trail Crawlers," is in honor of all creatures great and small – but mostly small. About 50 different kinds of insects and arachnids make an appearance in the mural – 60 if you count those pesky ants crawling around everywhere. There's also an earthworm.
Stiewig grew up in Garland and doesn't have any formal art training. After graduating from the University of North Texas with a business degree she landed a job as a financial advisor.
But a "passion project" since her teens has been her art. ("My Mom always put crayons in front of us. It was something we fell into and enjoyed.")  She spends her off hours painting and drawing, mostly portraits in a realistic or pop realism style.
At nearly 370 square feet, this is the biggest mural Stiewig has ever done. She studied the trail crawlers included – Dragonflies, Monarch butterflies, Orb Weavers – picking the ones that were the most colorful. Over four weekends she climbed a scaffolding and painted her bug collection.
"It's a strange thought that many eyes I'll never meet will see my work," Stiewig said. "My hope is that this simple concept will resonate. Take the time to observe what's around you, big and small. Find the beauty in every living thing. And lastly, enjoy the colors of our world and explore!"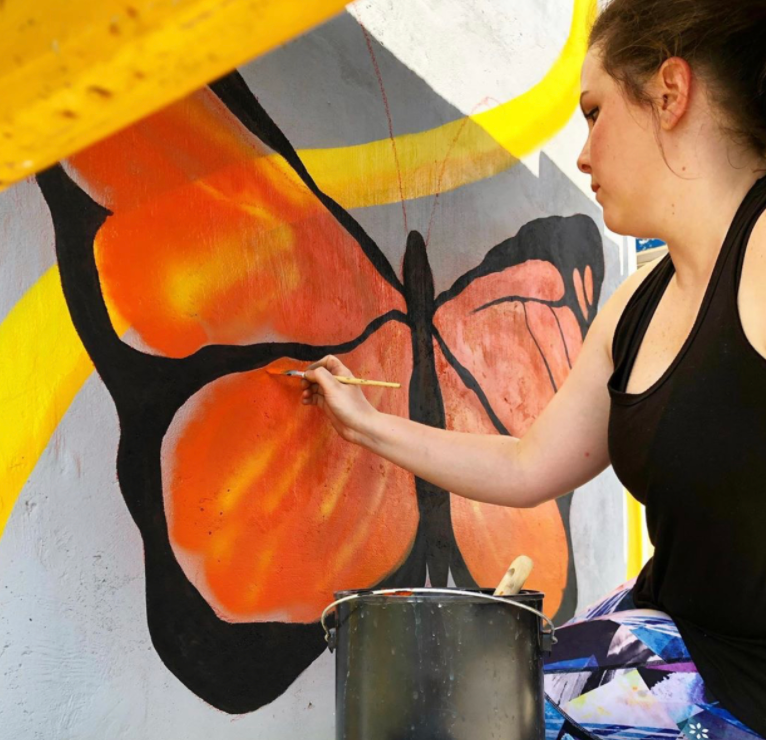 Next time you're out on the trails, keep your eyes open for the colorful creations popping up along the river. You can also follow @TrinityTrails on Instagram to see more pictures of completed and in-progress structures!
Are you interested in staying connected with the Painting the River project? Sign-up for our newsletter and learn about new murals and the project each week.