Artist: SM Sanz 
Hometown: Dallas
Title of Work: Wildflower Country
In Stephanie "SM" Sanz's artwork the women are independent and fearless.
They look you straight in the eye as they carry the burdens of the world, or as they protect their turf by brandishing a six shooter. 
In "Wildflower Country," Sanz's mural for the Trinity Trail gallery, she continues with that theme of strength. There's a young girl walking a trail surrounded by colorful wildflowers, but there's also a snake and an armadillo in her backpack.
And, not surprisingly, the look on the girl's face tells you she doesn't mind. 
"My work is directed at women. A strong woman is not afraid of nature," Sanz said. "I've been interested in nature all my life, and walking trails, and we shouldn't be afraid of all the critters."
Sanz's career mirrors the fearlessness of her subjects. Born in Miami, she grew up in Panama and considers herself to be a self-taught artist even though she has a graphics degree from the Universidad Catolica Santa Maria La Antigua.
Raised by parents who taught their kids to be "do-it-your-own-way type of people," Sanz bucked the Panamanian conservative Catholic society. She said it's a place where "girls are supposed to sit and look pretty and not do much with your life."
Sanz was mentored by muralists Remedios in Colombia and Martanoemi Noriega in Panama, eventually being asked to participate in large scale murals across Latin America, including the Central de Muros in Mexico City.
Along the way Sanz developed what she calls "pop surrealism," an artistic style that is a combination of pop culture art that is influenced by animation. It ultimately depicts the human figure in a magical, surrealistic settings.
Wanting to grow as an artist internationally, Sanz joined her sister in Dallas in 2019 and got involved in the local art scene. Her first public piece was for the Wild West Mural Fest. Her "Stay Wild Texas" features pistol-packin cowgirls.
Sanz enjoys drawing adventurous women in strong positions, which is what she's done in "Wildflower Country."
"This mural is about the striking landscapes and the nature of Texas and my personal love for adventure and the great outdoors," Sanz said. "It's about a connection, and a desire for a positive, symbiotic relationship between people and nature."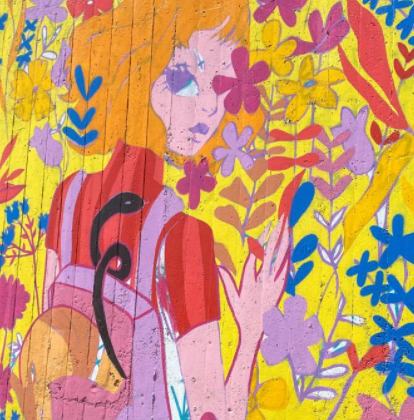 Next time you're out on the trails, keep your eyes open for the colorful creations popping up along the river. You can also follow @TrinityTrails on Instagram to see more pictures of completed and in-progress structures!
Are you interested in staying connected with the Painting the River project? Sign-up for our newsletter and learn about new murals and the project each week.