Artist: Murray G. Miller
Hometown: Fort Worth/Dallas
Title of Work: Biking and Ducking
Murray G. Miller knows about preserving a city's heritage.
As a historic preservation officer for the cities of Fort Worth and Dallas, he understands the importance of the Trinity River. He also recognizes that development along the river can sometimes collide with nature.
His Trinity Trail gallery mural depicts an older storefront – in this case a bike shop that rents bicycles and tubes for use along the trails – with two men standing outside dodging attacks by a flock of birds who aren't happy with the idea.
It's a bit of whimsy, but clearly historic preservation is no joke to Miller.
Trained as an architect in Canada, he has been involved in heritage architecture in four countries since the 1980s. In New Zealand Miller was an expert witness for local authorities and property developers regarding high-profile heritage projects. In the United Kingdom, he did visual impact assessments of new development in sensitive areas.
In the United States Miller has helped in the identification, evaluation and documentation of historic resources in compliance with federal standards regarding historic properties.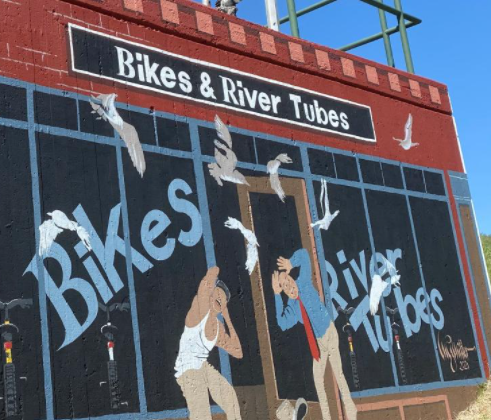 Next time you're out on the trails, keep your eyes open for the colorful creations popping up along the river. You can also follow @TrinityTrails on Instagram to see more pictures of completed and in-progress structures!
Are you interested in staying connected with the Painting the River project? Sign-up for our newsletter and learn about new murals and the project each week.