Being a good steward of the environment was ingrained in Jamie Cox at an early age. Growing up in Mississippi, she was a member of 4-H and was taught "to keep America beautiful."
So, when the 55-year-old high school teacher moved into an apartment near University Drive in 2001 and began using the Trinity River trails, she was shocked to see the junk collecting along the banks.
As a result, it's not surprising that Cox attended her first Tarrant Regional Water District Trash Bash 20 years ago and that she brought her students along with her.
"If it rains it's going to go into that creek right there," Cox said she tells her students about the litter. "And where does that creek go? It goes into the Trinity River. Where does that go? It goes into your faucet."
"Either you clean it up, or this is what you'll drink," she said she tells them.
You can expect Cox to be among the legion expected to spread out along the Trinity River's banks on Sept. 18 and 19 for the 30th annual Trash Bash. Volunteers will also patrol the shores of three TRWD lakes.
In the last 30 years, organizers say Trash Bash has evolved from several hundred people clutching plastic bags on a Saturday to a two-day event attracting thousands.
The volunteers are as diverse as the litter that's picked up. Some stand along the banks; others wade knee-deep into the work. All of their efforts help build a sense of community ownership of the river.
While records weren't kept in the early years of the program, in the last 19 years more than 177 tons of trash and debris has been gathered, said Brenda Fry, a TRWD administrative assistant and organizer since 2002.
Fry, who grew up in the area and was counseled as a kid to not go into the Trinity River, has watched the event grow and make a real difference.
"It's really raised awareness about what goes on the ground ends up in the river, which is your water supply," Fry said. "You wouldn't believe what we've found in the river as well as along it."
A little rain can make a big mess
Trash Bash started out as a regional initiative spanning four counties and 21 cities that was sponsored, and supported financially, by the North Central Texas Council of Governments and the Trinity River Authority.
There was widespread concern about the contaminants and solid waste such as paper, cups and plastic bags that were getting swept up in a storm's runoff and dumped in the river, negatively impacting water quality.
While everyone thinks it's the five-inch rainstorm that deposits all the junk they'll see in the water, it really only takes an inch of rain to send solid waste into the river. And, those storms come more often.
"If you see a piece of trash and don't pick it up, it will end up in the river," said Valerie Jay, TRWD recreation coordinator. "We have to keep the river and water quality as pristine as possible, and trash takes away from that."
In 2018, the TRWD adopted a Water Quality Guidance Manual to improve the quality of the stormwater that makes its way into the river from streets, parking lots and sidewalks after it rains.
Last year, TRWD re-energized its Adopt-A-River program that encourages businesses and groups to adopt a section of the Trinity River for litter clean up. It's modeled after the adopt-a-highway program.
Still, more needs to be done.
As a result, Jay said the TRWD and Downtown Fort Worth Inc. are discussing the formation of a Litter Task Force. Members would include representatives from entities and organizations who serve as stakeholders in the city's litter reduction efforts.
The task force would educate each entity on their individual efforts and ultimately devise a comprehensive strategy to cut down on litter, she said.
While the lesson that the gum wrapper or paper cup casually tossed out of a car window will end up in the river seems so simple, Cox said her students had to see it to believe it. That's why she loves Trash Bash.
Shopping carts, mannequins and more
You name it and they've found it in the Trinity River.
Shopping carts. Old tires. Stuffed animals. Beer bottles. Pop cans. Passports. Advertising signs. Basketballs. Frisbees. Canoe oars. Credit cards. Wallets. And even a fashion mannequin.
Cox has displayed some of the most interesting items pulled from the river in an old aquarium in her classroom. It sat not far from the working globe-shaped lamp that was found along the river.
Then there's the quilt she's had made out of her volunteer t-shirts that she sometimes hangs in her classroom. Cox is a career and technological education teacher at Fort Worth's Polytechnic High School.
Apparently, her message of environmental stewardship is working, because Cox has had former students willing to give up a Saturday to pick up trash. They haven't missed one in 10 years.
"The kids, they don't pay attention (to what ends up in the river) until we go and do it," Cox said. " 'Ohhh, I didn't know it was that trashy!' they'll say. And we'll go and clean it up and make a difference. It's just so educational."
Don Wheeler, a landscape architect who has volunteered at Trash Bash for over 10 years, maps out where he's going to go like a fisherman picking a good fishing spot. He'll pick up two or three bags full before others arrive.
Wheeler, 67, who serves on the Keep Fort Worth Beautiful board, said he's developed friendships while daily picking up trash along the Trinity River. One time he met someone from Australia who scoops up litter at home.
"You can meet someone out of the blue. It's an interesting way to get a conversation going," Wheeler said.    
Fry definitely thinks Trash Bash has grown in popularity and impact. In her mind's eye, she remembers driving down the road during one event and all she could see were the bright yellow give away t-shirts distributed that year.
"It was amazing to see so many colored shirts along the trails," she said.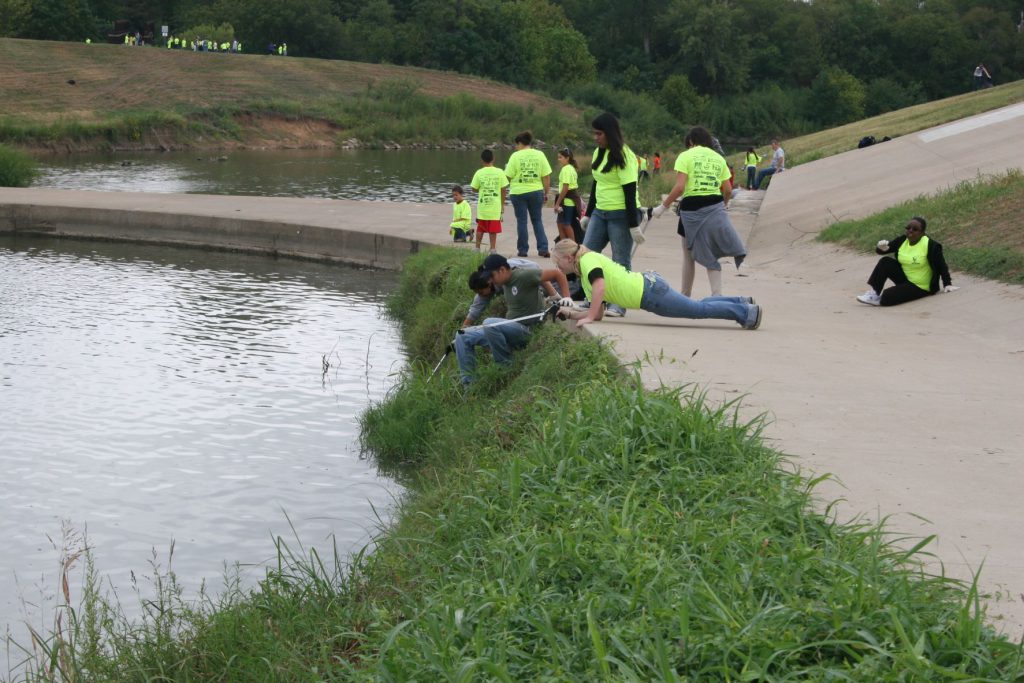 A very special thank you to two of our Trash Bash sponsors, Molson Coors Beverage Co. and HDR Engineering, Inc. Molson Coors has been a sponsor of the event for 28 years and HDR has been a sponsor for 11 years.